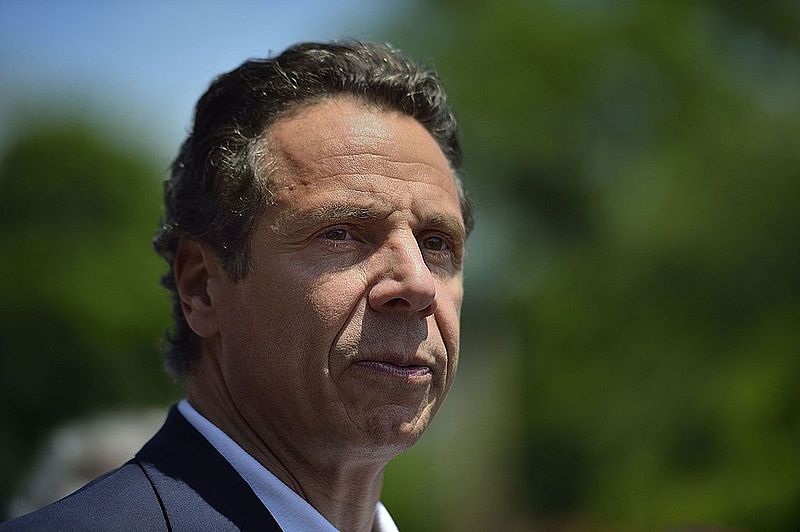 New York Governor Andrew Cuomo has been making quite a positive splash with his impressive handling of the Coronavirus in his home state.  His daily press briefings, which have turned the single governor into a "heart throb", have been getting the New York Democrat rave reviews for his calmness, clarity, and apolitical approach to addressing the Pandemic which has hit his state harder than all others.
As he compassionately and professionally addressed the mounting crisis in New York, Cuomo complimented his long time political antagonist President Donald Trump for his dedicated cooperation to serve his state and the nation.  Equally surprising, was the unadulterated appreciation of the Trump administration's stellar efforts to serve the people of his state by the Trump despising Governor of California Gavin Newsom.
Governor Cuomo's performance was starting to generate a chorus of calls to dump Joe Biden and replace him on the top of the 2020 Democrat presidential ticket.
But the last few days, the born again leadership of Andrew Cuomo is coming back to earth.  Not only is he clearly enamored with the sound of his own voice and the adoring media coverage his daily briefings have generated; he is starting to believe the "he is the king of world" press clippings.
It was inevitable, that this long time Trump loather would start to blame the President and his team for all of New York's mounting Coronavirus challenges; but he is now demanding "special treatment" for his state above all others from businesses and the federal government.
"We need 30,000 ventilators, the federal government is offering us only 400 more," bellows Cuomo.
The math challenged governor wondered out loud, what was he supposed to do with the other 26,000 New Yorkers in need of ventilators…let them die?  Note to Governor:  You need an additional 29,600 ventilators…maybe you should enroll in a home schooling math class.
During the Korean War, Congress passed a law, the Defense Production Act of 1950, that gives the president broad powers to require companies to produce supplies and equipment needed to successfully wage war.  Due to the pro-active measures willingly undertaken by numerous American businesses to start voluntarily manufacturing everything from protective gear, ventilators, medications, to hand sanitizers, President Trump has opted not to nationalize America's private enterprise.
This failure to needlessly take over American industry by President Trump, has  generated substantial ire from the left wing New York Times and its Trump despising media clones; not to mention the reinvigorated leftist New York governor, opportunist Nancy Pelosi, and grandstanding Senate Minority leader Chuck Schumer.  Compounding their despicable behavior, they are trying to exploit the much needed relief package by adding trillions of dollars in pork spending to underwrite leftist pet projects from federal abortion funding to the New Green Deal.
Cuomo is demanding that President Trump force more companies to start mass producing ventilators, masks, etc.  In his longer and longer and longer daily briefings, Cuomo insists that all existing ventilators be given immediately to New York.
"Once we are past our crisis, I will make sure they are shipped to other states,' promised King Cuomo.
In World War II, American industry was compelled to start producing military equipment such as battleships, planes, ammunition, tanks, etc. in previously unfathomable amounts.  Cuomo claims they never would have done so if it were not mandated or forced by the government.  While this has been vigorously debated since 1945, there is no question that in those four years, American industry turned out 296,000 planes, 102,000 tanks, and 372,000 artillery pieces.  One company alone, Detroit's Willow Run, produced one B-24 long range Bomber every hour of the day and night.
As unprecedented and successful this remarkable and fiscally beneficial undertaking this transformation into a wartime economy was, it didn't happen in a few weeks or months.  Governor Cuomo's suggestion that by Trump invoking the Defense Production Act, we would have more than enough ventilators in short order is not only absurd but cruelly misleading. It also devalues the generous gestures made by private interests and citizens to work together to navigate through the treacherous and unknown narrows of this health care nightmare.
As he stepped up to the plate to lead New York through this health crisis facing the entire planet, for a brief shining moment, Andrew Cuomo became a war time leader who bought calm, valuable information, and hope to the battle.  But when all was said and done, he couldn't keep up the act…once a political hack, always a political hack.
Jayne Carroll hosted a daily talk show in afternoon drive time in the Portland, Oregon metro area for more than 20 years.  She wrote a popular conservative newspaper column for over a decade.  Her live shows and podcasts can now be heard at TheJayneCarrollShow.com in addition to her political commentary, "Jayne Says".  Jayne and her Producer Jeremy Scott can be contacted here.  Guest appearances and speaking bookings can be arranged via email at [email protected].