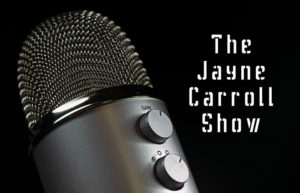 LIVE!


MONDAYS & THURSDAYS
7PM PT | 10PM ET
CONSERVATIVE COUNCIL


EVERY OTHER TUESDAY
7PM PT | 10PM ET
CALL-IN #: 888-314-0440
LISTEN LINE: 701-719-0670
SCHEDULE
All shows air live at 7pm PT / 10pm ET
Tuesday, November 3rd (Election Night Conservative Council)
Thursday, November 5th
Monday, November 9th
Tuesday, November 10th (Conservative Council)
Thursday, November 12th
Monday, November 16th
Thursday, November 19th
Monday, November 23rd
Tuesday, November 24th (Conservative Council)
Monday, November 30th
Facebook
Tuesday, January 19th - Conservative Council
The Jayne Carroll Show - Jayne Carroll earned her stripes as the "First Lady of Talk Radio" more than 20 years ago. She's a conservative political analyst and former policy advisor, speechwriter, manager and media specialist. Listen to her show LIVE Mondays & Thursdays at 7PM PT / 10PM ET and he...
Jayne talks Cancel Culture running wild and Canceling free speech 8:00-8:30: Dr. Gordon Fulks - Climate news
8:00-8:15: Hampton Conway III, Executive Director of the Movement Ministries Topic: Merrick Garland is Back? Will A Joe Biden Justice Department Return America To A System That Presumes All Black Males Are Guilty?