To reach Jayne or her Producer Jeremy, please fill out the following.
Your information will not be shared.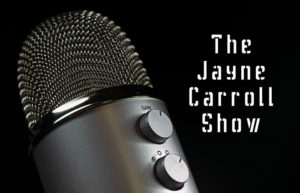 LIVE!


MONDAYS & THURSDAYS
7PM PT | 10PM ET
CONSERVATIVE COUNCIL


EVERY OTHER TUESDAY
7PM PT | 10PM ET
CALL-IN #: 888-314-0440
LISTEN LINE: 701-719-0670
THIS MONTH"S SCHEDULE
All shows air live at 7pm PT / 10pm ET
Regular Shows
Monday, March 2nd
Thursday, March 5th
Monday, March 9th
Thursday, March 12th
Monday, March 16th
Thursday, March 19th
Monday, March 23rd
Thursday, March 26th
Monday, March 30th
Conservative Council
Tuesday, March 3rd
Tuesday, March 17th
Tuesday, March 31st
Facebook
Tonight's show has been cancelled. Jayne hopes to return on Thursday. Stay safe! ... See MoreSee Less
7:00 - Are we destroying our economy needlessly? Is it time for America to get back to work? 7:30-7:45: Sandra Lee, political analyst, author of "Dear Donald: Letters From A Loving Deplorable" and advocate for conservative women in the U.S. Topic: Will Stimulus Package Be Enough To Save Our Economy?...
Tonight, Jayne Carroll is joined by Sandra Lee, author of "Dear Donald: Letters From A Loving Deplorable", political analyst and advocate for conservative women in the U.S.

Listen at www.thejaynecarrollshow.net. ... See MoreSee Less