To reach Jayne or her Producer Jeremy, please fill out the following.
Your information will not be shared.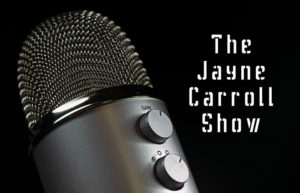 LIVE!


MONDAYS & THURSDAYS
7PM PT | 10PM ET
CONSERVATIVE COUNCIL


EVERY OTHER TUESDAY
7PM PT | 10PM ET
CALL-IN #: 888-314-0440
LISTEN LINE: 701-719-0670
SCHEDULE
All shows air live at 7pm PT / 10pm ET
Thursday, Jan. 28th
Monday, Feb. 1st
Tuesday, Feb. 2nd (Conservative Council)
Thursday, Feb. 4th
Monday, Feb. 8th
Thursday, Feb. 11th
Monday, Feb. 15th
Tuesday, Feb. 16th (Conservative Council)
Thursday, Feb. 18th
Monday, Feb. 22nd
Thursday, Feb. 25th
Facebook
7:00: Kevin Hoar, Oregon Republican Party Communications Director Topic: Oregon Senate Republicans walk out for 3rd straight year, citing governor's COVID-19 restrictions 7:30-7:45: Dan Gainor, Vice President of Business and Culture for the Media Research Center Topic: Media Covers Up Cuomo Sexual...
This is not spam ~ Patcnews Aug 15, 2018 Reports Family Gospel Group Who Sings What A Friend We Have In Jesus
youtu.be/cVNEk_la2ac via ... See MoreSee Less
7:00-7:55: Dan Sandini 8:00-8:15: Vlad Yurlov, Policy Analyst at Cascade Policy Institute Topic: Cascade's recent report on homelessness