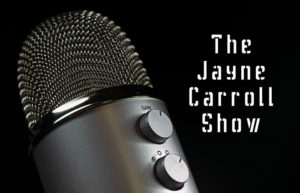 LIVE!


MONDAYS & THURSDAYS
7PM PT | 10PM ET
CONSERVATIVE COUNCIL


EVERY OTHER TUESDAY
7PM PT | 10PM ET
CALL-IN #: 888-314-0440
LISTEN LINE: 701-719-0670
SCHEDULE
All shows air live at 7pm PT / 10pm ET
Thursday, September 24th
Monday, September 28th
Tuesday, September 29th (Post Debate Council)
Wednesday, September 30th (Special Broadcast)
Monday, October 12th
Tuesday, October 13th (Conservative Council)
Thursday, October 15th
Monday, October 19th
Thursday, October 22nd
Monday, October 26th
Tuesday, October 27th (Conservative Council)
Thursday, October 29th
Facebook
🔴 LIVE PODCAST: Wednesday, September 30th on Spreaker ... See MoreSee Less
Jayne is joined by Mark Anderson, host of iSpy Radio for post-debate analysis.
Tuesday, September 29th - Conservative Council
The Jayne Carroll Show - Jayne Carroll earned her stripes as the "First Lady of Talk Radio" more than 20 years ago. She's a conservative political analyst and former policy advisor, speechwriter, manager and media specialist. Listen to her show LIVE Mondays & Thursdays at 7PM PT / 10PM ET and he...