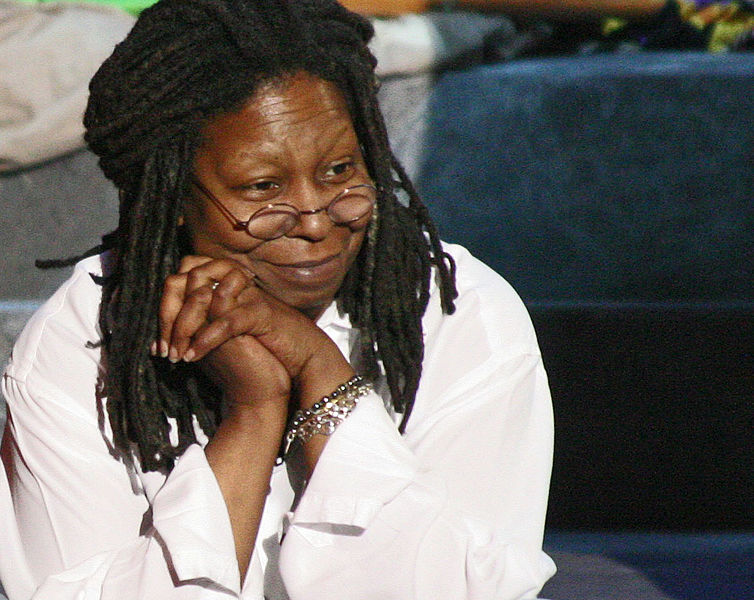 "You know what is horrible is, when the President of the United States whips up people with so much hate that they go out and beat up people."
These are the words of Whoopi Goldberg, who is now an official member of the vicious army of celebrity elites who encourage violence, bullying, abuse, and over the top hate toward the President of the United States, his wife, his children, grand children, staff and any low-life who cast a vote for Donald Trump over Hillary Clinton.
Goldberg, who likes to feign she is above the fray, went ballistic when an invited guest Judge Jeanine Pirro had the audacity to defend President Trump and to decry the heinous illegal alien killers who have taken the lives of innocent Americans.  The bellowing Whoopi then proceeded to throw the Judge off her show; and backstage, which Goldberg denies, the judge claimed Goldberg yelled, "Get the 'F' out" of this building over and over again until Pirro left "feeling treated like a dog" with Goldberg still spitting "Get the 'F' out."
This is classic left wing transference…right out of their bible "Rules For Radicals" by Saul Alinsky…always accuse your opposition of the tactics you regularly employ.
Pirro, who was invited on "The View" to promote her new book, was said to be upset when she arrived on the set and found out that one of the panelists would be a CNN Trump hater.  She felt she should have been informed that the panel would include even more left wing bias than usual.  Whoopi Goldberg claims, which the judge denies, that Pirro then used an obscene epitaph before they went back on the air to describe the hosts and audience.
Here's a link to what was on the air: 'Get the f*** out of the building!': Whoopi Goldberg and Trump supporter Judge Jeanine Pirro fight on The View before getting into a second screaming match backstage
In Portland, Oregon, an art gallery hosed an "F" Trump exhibit and part of the show was a gross depiction of the president on the gallery window with his throat being slit.  We've seen prominent conservative women being accosted and ejected from restaurants, calls for one of Trump's female cabinet members to be placed in a cage, naked, in a public square where passers-by would be provided with sticks to poke her, a suggestion by a Trump hating Hollywood has-been that the Trump's 12 year-old son also be put in a cage with a group of depraved pedophiles…and Whoopi Goldberg is hysterically claiming that President Trump intentionally generates so much hate that it encourages his supporters to go out and beat up innocent Americans.
Transference…always accuse your opposition of using the tactics you regularly employ.  There are countless acts or calls for acts of violence emanating out of the Trump loathing left almost every hour of the day.  What Ms. Goldberg or Judge Pirro said off the air may be a case of "she says, she says", but Whoopi Goldberg's absurd contention, without one single cited example, that Donald Trump is the one encouraging hate and physical violence, should back up her cheap shots or apologize.  If she were on the other side of the aisle, Disney would fire her.  It won't happen.  More likely: Judge Pirro will get the ax when Disney takes over Fox News.
Judge Jeanine Pirro will be a guest on "The Jayne Carroll Show" on THURSDAY, AUGUST 9TH at 6:00am Pacific & 9:00am Eastern.
Jayne Carroll hosted a daily talk show in afternoon drive time in the Portland, Oregon metro area for more than 20 years.  She wrote a popular conservative newspaper column for over a decade.  Her live shows and podcasts can now be heard at TheJayneCarrollShow.com in addition to her political commentary, "Jayne Says".  Jayne and her Producer Jeremy Scott can be contacted here.  Guest appearances and speaking bookings can be arranged via email at [email protected].