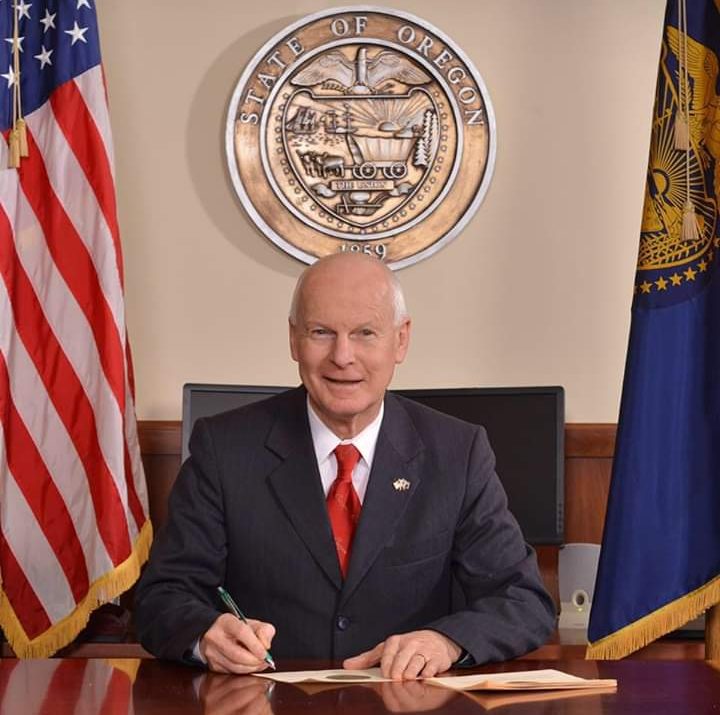 Tuesday night, surrounded by those who loved him, Oregon Secretary of State Dennis Richardson lost his battle with brain cancer.   It seems like just yesterday we learned of his tragic diagnosis, but those who knew Dennis Richardson believed he would be the one to beat it.
Why?  Because Dennis Richardson was a man who defied the odds and had succeeded where so many others had failed before him.  His determination and courage were magnified by his inherent decency and uncommon grace.  He will never be replaced.
Many will be inspired to give glowing tributes to the Oregon Republican who "went where others feared to tread", but thus far, the social media post of former State Representative Katie Eyre best captures the genuine sentiments and deep loss of so many who admire Dennis, his family, and his remarkable legacy:
"My heart is broken.  Dennis Richardson was/is a great man.  I just am struggling to discuss Dennis in the past tense.  He is a treasure to this world through his military service, his public service, his love of community, and his daily love of God as shown as a father and husband.  I first met him on the campaign trail in 2010, and then had the privilege of serving with him in the Oregon Legislature.  I learned so much from him. During the Great Recession, his incredible stewardship and leadership of Oregon's budget saved us when other states struggled.  Dennis continued his good work as Secretary of State, issued audit reports giving us great insight into our state.  He brought a fresh look.  He loved Oregon.  He loved us.  Today, I pray peace for his family and for all who love him.  Dennis was a joyful person and even in the midst of this news, I pray that I may rejoice in seeing him again one day."
Well said Katie.
Rest in well deserved peace, Mr. Richardson.  Oregon was a better place with you among us.
Jayne Carroll hosted a daily talk show in afternoon drive time in the Portland, Oregon metro area for more than 20 years.  She wrote a popular conservative newspaper column for over a decade.  Her live shows and podcasts can now be heard at TheJayneCarrollShow.com in addition to her political commentary, "Jayne Says".  Jayne and her Producer Jeremy Scott can be contacted here.  Guest appearances and speaking bookings can be arranged via email at [email protected].