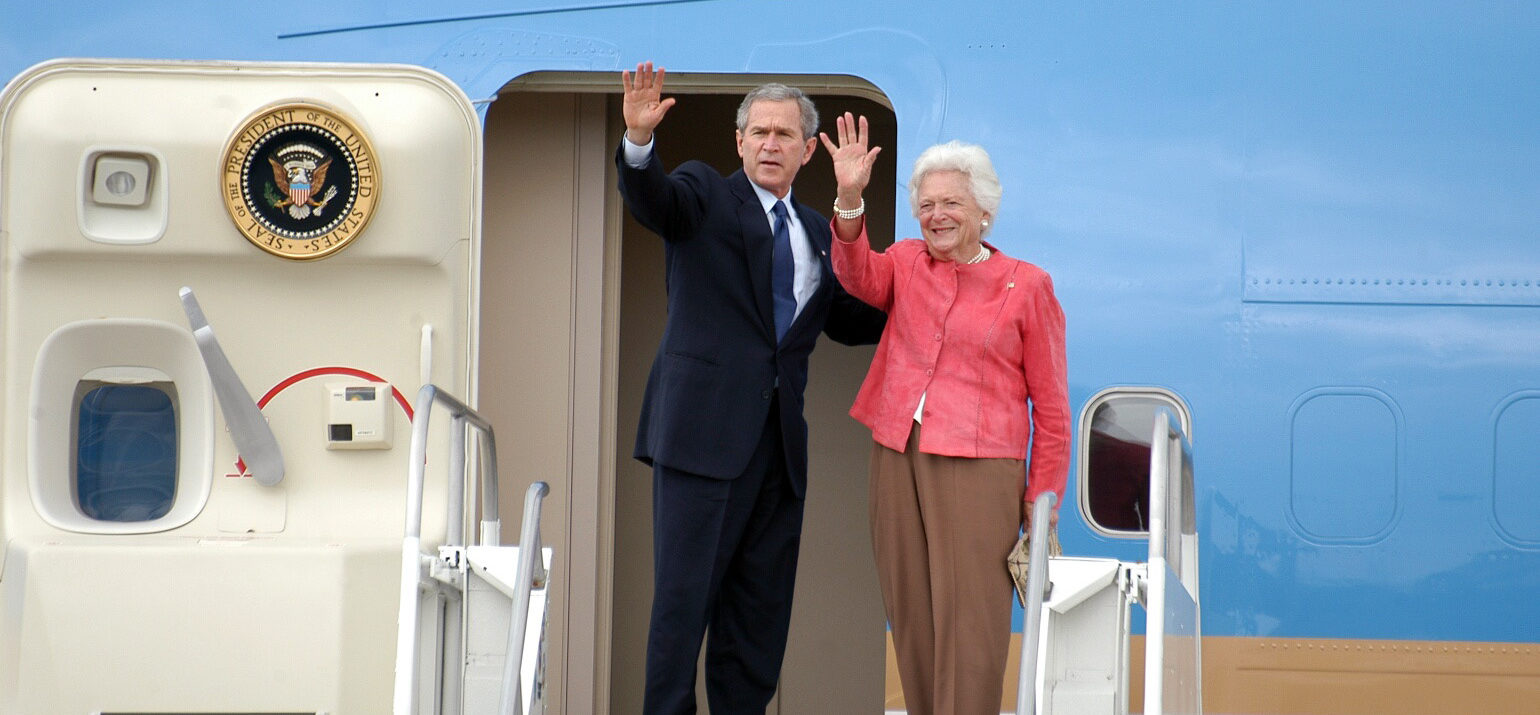 In an era of controversial First Ladies who have evolved beyond being America's hostesses to the world into everything from lightning rods, style icons, and powerful ambitious politicians in their own right, Barbara Bush was one of a kind.
She wasn't "every woman"; she grew up in a wealthy privileged world of American aristocracy.  Charitable work was in her DNA and she instilled that obligation into her family, her staff, and countless friends.
"You never wanted to disappoint her, " said Dana Perino, press Secretary to the President George W. Bush, Barbara Bush's eldest child.
The only thing that was said to make Mrs. Bush cry in public was the mention of her daughter Robin, who died at the age of 3 due to leukemia.  Mrs. Bush will be buried tomorrow at Robin's side.
She earned the nickname many women would not relish, "America's grandmother."  When her hair turned white prematurely following the death of her daughter, she opted not to color it.  For many years, she looked much older than her youthful husband.  Having followed in the footsteps of size 2 fashion maven and entertainer of the stars Nancy Reagan, Mrs. Bush would often joke about the size and sensibility of her own wardrobe and shoes.
"When I moved into the White House, said Mrs. Bush, "I made a lot of old white haired ladies happy."
When her son was in the White House and her underaged granddaughter got caught in a drinking scandal, it was her grandmother Jenna Bush wanted to face least.
Many First Ladies learn to fake the  look of adoration when they stand by their husbands while he delivers a speech, cuts a ribbon, or does anything in front of a camera, but with Barbara Bush it was genuine.  She obviously loved the guy and it made him more lovable to the rest of us.  It was her authenticity that made her so special to so many…and so rare among contemporary American First Ladies.
She was a woman comfortable and confident in her own skin.  She had her own share of disappointments and heartbreaks, but she always projected optimism and the intangible elegance and class of a woman blessed with a full and remarkable life.  Never the victim herself, she had a lifetime of serving others who needed a helping hand.  It wasn't to enhance her resume or for photo-ops, it was simply who Barbara Bush was from the early days to the end of her 92 years.
And so for the handful of ugly liberal professors or Bush haters, who are celebrating the death of Mrs. Bush with unbridled joy and hideous assaults on her life and character, we should ignore them and let them stew in their own bile and all-consuming ugliness.
For the vast majority of us who mourn her passing and celebrate her achievements, humor, and significant contributions to her country, she never did "disappoint us."   In her memory, let's aspire to be the kind of people who would not disappoint her.
May Barbara Bush rest in peace; hand and hand again with her beloved daughter Robin…and no longer having to hold back tears when Robin's name crosses someone's lips.
Jayne Carroll hosted a daily talk show in afternoon drive time in the Portland, Oregon metro area for more than 20 years.  She wrote a popular conservative newspaper column for over a decade.  Her live shows and podcasts can now be heard at TheJayneCarrollShow.com in addition to her political commentary, "Jayne Says".  She and her Producer Jeremy can be contacted here.